Outdoor wedding photography is one of the most enjoyable parts of the wedding day photos that I take. To me, the couple is able to show their personality and we are able to get those fun memorable shots! If the wedding ceremony is outside, their style and personality is even more prominent because they typically decorate or set up the wedding to meet their style. Some of that can come through in a church, but from my experience church weddings typically go down the traditional route, while outside weddings take on a style all of their own.
When I am set to photograph a couples day one of the topics I always ask about is if there are any special locations that they would like to go to for photos? These can be done before the ceremony or after, but I can typically get an idea of what they are looking for based upon where they would like to go. Typical locations around Marquette, MI include: Presque Island, Founders Landing, McCarty's Cove, Tourist Park, the Seventh Street Cemetery, the Lower Harbor. I have a few locations downtown that I like to go if they are looking for ideas from me as well. I love to find little doorways, alleys and places with great colors or textures to use as backdrops. I even have an idea in the back of my mind if we have a really rainy day, but the couple wants to get some outdoor shots. Maybe your wedding will use that idea, for your sake I hope it doesn't happen, but as a photographer I have to be ready for any situation. I love when couples have a place they want to go that I haven't been to or that I don't get to shoot often! This is when the creativity can really pick up and we can have a really great time and capture great memories.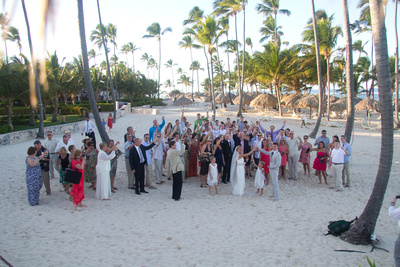 I have also been fortunate enough to have photographed several destination weddings. These are my absolute favorite! When I'm in a new exotic location it is the best of both worlds for me. A wedding and photography! My idea of an amazing vacation, although it drives my wife a little crazy, is exploring and looking for that one great shot. Destination weddings provide me the ability to explore and capture fabulous wedding pictures that the couple will remember forever. If you are having a destination wedding, give me a shout, I would love to capture your memories!
To request pricing or book a wedding date with me, just send me an email at wsphoto@outlook.com or call me 906.250.2484.