Whether you are listing your home with a Real Estate Agent or putting it on the For Sale By Owner market, pictures are the key. You can list all of the features of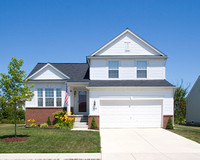 your home, price it attractively and tell about the updates, but if the pictures are not outstanding you will be missing out on potential buyers. A properly staged and photographed house will give potential buyers the first impression that you want them to have. Remember, you only have one shot at a good first impression. People are busier than ever and don't have the time to go through houses that don't appeal to them. If your listing has dark, cluttered photographs you ARE missing out on potential buyers and potentially more money. In fact, in an article by The Wall Street Journal, they report that "listings with nicer photos gain anywhere between $934 and $116,076. The data also showed that listings with nicer photos get more online attention." With the real estate market performing as it is, can you afford not doing everything in your power to have the best listing?
A professional photographer will work with you and/or your agent to make your house shine! Following are a few things that a professional photographer will bring to the table that a point-and-shoot camera will not capture including:
the addition of supplemental light where needed
properly exposed images
expanded views of each room by use of a wide angle lens
I know you are probably thinking, "that would be nice, but what's it going to cost me?" The cost is not a substantial one. Typically professional photography of a residence ranges from $100-$500 depending upon the listing. Some real estate agents will even cover the cost. If you are considering listing your house, or if you have done so already talk to your real estate professional about using a professional photographer or contact one on your own.
To learn more or receive a quote, contact Bill Schumann | wsphoto@outlook.com | 906.250.2484