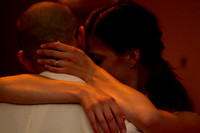 Bill took our wedding photos in June 2012, and we couldn't have made a better decision. My husband, Corey, absolutely hates taking pictures, and groans every time I take the camera out, so I was a little nervous about the wedding pictures, but Bill made him feel so comfortable. By the end our day, he was even having fun! It helped a lot that Bill is incredibly discrete. After we looked back at our pictures I realized that the majority of the time I wasn't even aware of his presence. Even for our first dance, our pictures are stunning, and I don't even remember him snapping away. Bill is also very outgoing. If he had an idea he would say it, and put it into action, after all, he would do anything for a great picture. We had such an amazing wedding day and Bill captured it exactly the way we want to remember it forever, full of love and laughter. It was truly the happiest day of our lives, and our pictures show exactly that. We will be going to Bill Schumann for all of our future family pictures! - Lacey Ducsay



Bill Schumann took my wedding pictures in July 2012 and my husband
and I couldn't be happier with our choice of photographers! From our
first meeting with him we knew we'd made a great 

choice; we could tell
that he really wanted to make sure he took the pictures that we
wanted. We really appreciated that he was willing to modify one of
his standard plans to fit exactly what we needed. Throughout the
wedding planning process we found Bill very laid back and easy to work
with. 
Bill was very discreet during our wedding ceremony - we forgot that he was even there! Many of our guests comments on how much they enjoyed being at a wedding where they didn't notice the photographer. Even though he wasn't obvious about snapping shots, the pictures of our service are amazing. Bill did a great job capturing the spirit of our ceremony. Both before and after the ceremony Bill was very efficient. We really appreciated his help and advice about how to deal with photographs when one of our wedding party got sick and we had to change some of our photo plans. We didn't have many ideas for pictures of just the bride and groom: we mostly cared about making sure we got pictures with our guests. But Bill came up with some really lovely ideas for pictures of the two of us and we are really grateful that he pulled us to the side to get those pictures!
Our wedding was a little rough in places - one of the wedding party got sick and the reception wasn't quite as well planned as it should have been. Bill stepped in and helped wherever he could. His help was part of the reason our reception went smoothly. Every time we hit a bump he helped out - he was an invaluable part of our wedding team. At all times he was subtle, efficient, professional, and friendly. He was so awesome that we had guests asking for his contact information for other weddings, even though the guests hadn't even seen his pictures yet!
Not only was Bill easy to work with, his photos are beautiful. We love our wedding photos. They captured everything I had hoped for and more. If we were choosing photographers all over again we would definitely choose to work with Bill. Anyone would be lucky to work with such a wonderful photographer on their wedding day!
- Erin Belval
I don't normally do recommendation letters, but Bill Schumann did such a great job as a photographer at my wedding, that I felt compelled to write one on his behalf. My wife, Erin, and I got married last July. At the time (like most soon-to-be-wed couples) we were swamped with wedding "to-do" activities and feeling overwhelmed and intimidated by the whole ordeal- especially the process of finding a good photographer. Fortunately, a friend pointed us to William Schumann Photography. He was incredible during the whole process, from the introductory/planning meeting to the wedding ceremony to the reception afterwards. On the wedding day he was both professional and discrete (we didn't even notice him during the ceremony- exactly what we wanted from a photographer!) while taking a wide variety of photographs, from arranged family portraits to candid shots at the reception. He was also very receptive and flexible, allowing us to get the exact pictures we wanted while at the same time offering his expertise for some pretty imaginative shots. All in all, we couldn't be more thrilled with how all of the pictures turned out. It ended up being an amazing day for both of us, and Bill certainly played an important role in all that. I would strongly recommend him to anyone looking for a professional, courteous and talented photographer to help capture the most important day of their lives.
- Jeff Belval