Senior portraits are a big deal for many seniors and a pain in the butt for many others. Many seniors get very nervous when they get in front of the camera. They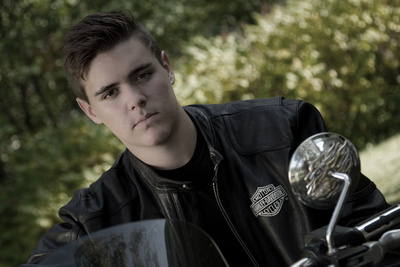 freeze up and say I don't know what to do. This is where some good pre-planning can help. It also helps to have a photographer that is outgoing and able to put them at ease, but that's a topic for another day.
"What should I bring?" is a question that I hear often when booking a senior session. While I can't tell you exactly what to bring, I can give you some suggestions.
1. Bring clothing that fits your personality
2. Accessories that make you, who you are [favorite hat or some jewelry]
3. Musical instruments
4. Sporting equipment and jerseys
5. Your pet [please let me know before, if this is the case]
6. Your best friend or boy/girl friend [if mom and/or dad approve]
7. Your car, truck, suv, jeep, motorcycle, bike, etc.
8. Your smile :0)
Really the sky is the limit. If we are able to talk before your session just about anything, within reason, can be worked into your portraits. The more options we have to show your personality, the happier you will be with the final product. I also find that these things give us something to talk about and maybe have a good laugh or two during your senior portrait session. I would much rather you bring too much than not enough. I love to see what makes people happy. If you're struggling with what to bring, give me a call and we can talk about the things you are interested in and come up with some great ideas!
To schedule a senior portrait session with William Schumann Photography, contact Bill at 906.250.2484 or email me wsphoto@outlook.com.